Sound Box Instructions for Use

LISTEN TO THE LULLABY AND WHITE NOISE HERE
Here is everything you need to know about your Sound Box.
Please pull the tab at the back of the toy to activate the batteries in your sound box.
There are 2 lengths of play on your sound box, 20 minutes (I switch) and 40 minutes (II switch) See here why we have chosen these settings.
There are 2 volumes on your sound box for you to choose from.
There are 2 sounds on your sound box, our unique lullaby and our white noise heart beat. The magic really is in our lullaby on the 20 minute setting.
To turn off, simply hold one of the buttons down for 3 seconds.
Optimal sound is achieved once the sound box is inserted into the pal. Similar to stereo speakers, the sound box is designed to be heard through the plush.
What batteries do they take? 2 x AA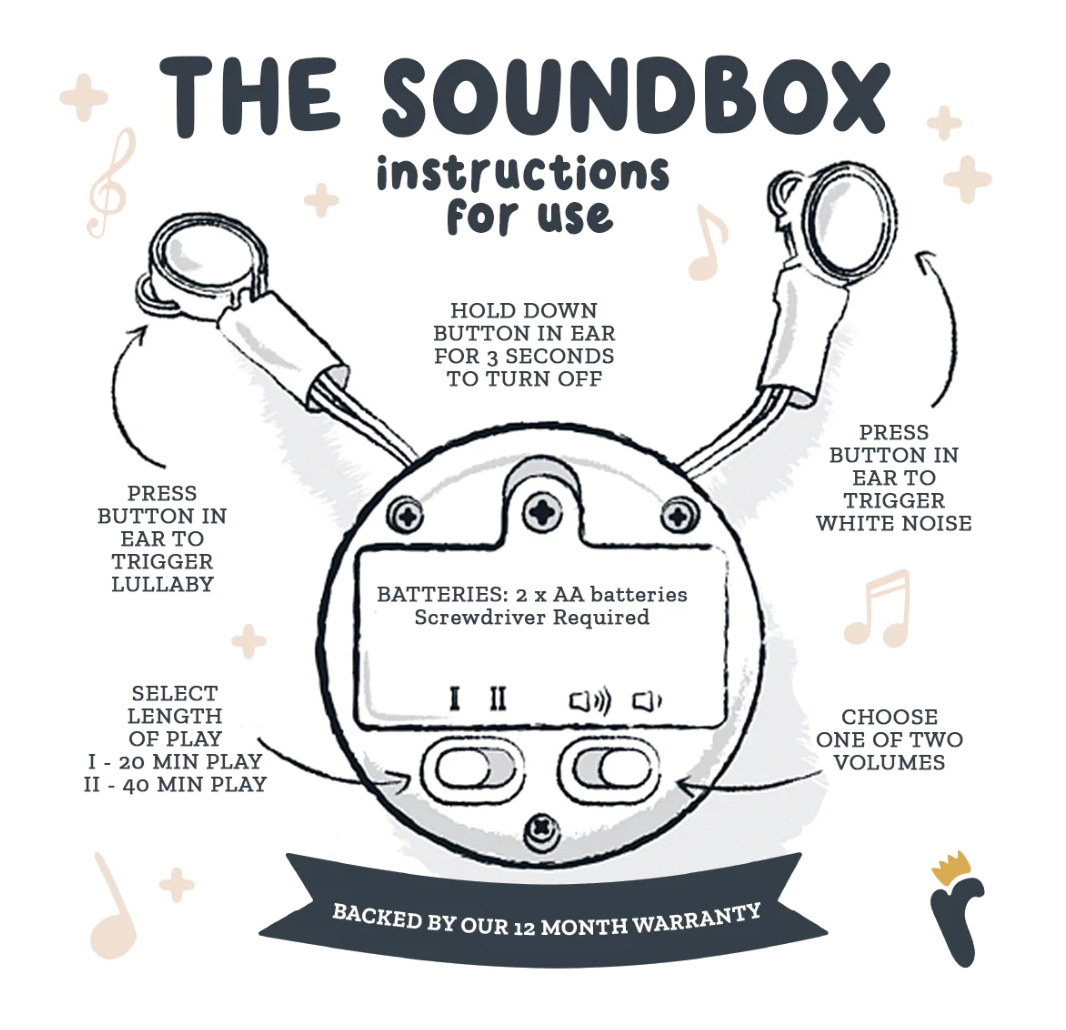 We recommend removing the batteries if you are storing your sound box for an extended period of time to avoid corrosion. Corroded batteries in your sound box is not covered by the 12 month Warranty.
Do not mix old and new batteries.
The battery case is secured by a screw and requires a screwdriver for battery changes. Once your battery change is complete, please replace the cover and tighten the screw before inserting back into your pal.
Please insert batteries correctly according to + and - symbols located in the battery component.
How long the batteries last entirely depends on how much you use it. See here for test results on leading brands.
Something not right with your Sound Box?
Is your sound box making a clicking sound? Wont play the whole time? Sounding slow or crackly? No sound is coming from the sound box at all? It is time for a battery change! See here for our recommended brands.
You have changed the batteries yet one of the above is still occurring? Complete your Warranty Form here and we will sort this out for you.
Your Riff Raff Sound Box is covered by a 12 month warranty period
You can purchase the Sound Box separately here
Our Customer Experience Team is always here to help
---
---