Secret Santa Sack Promotion 2021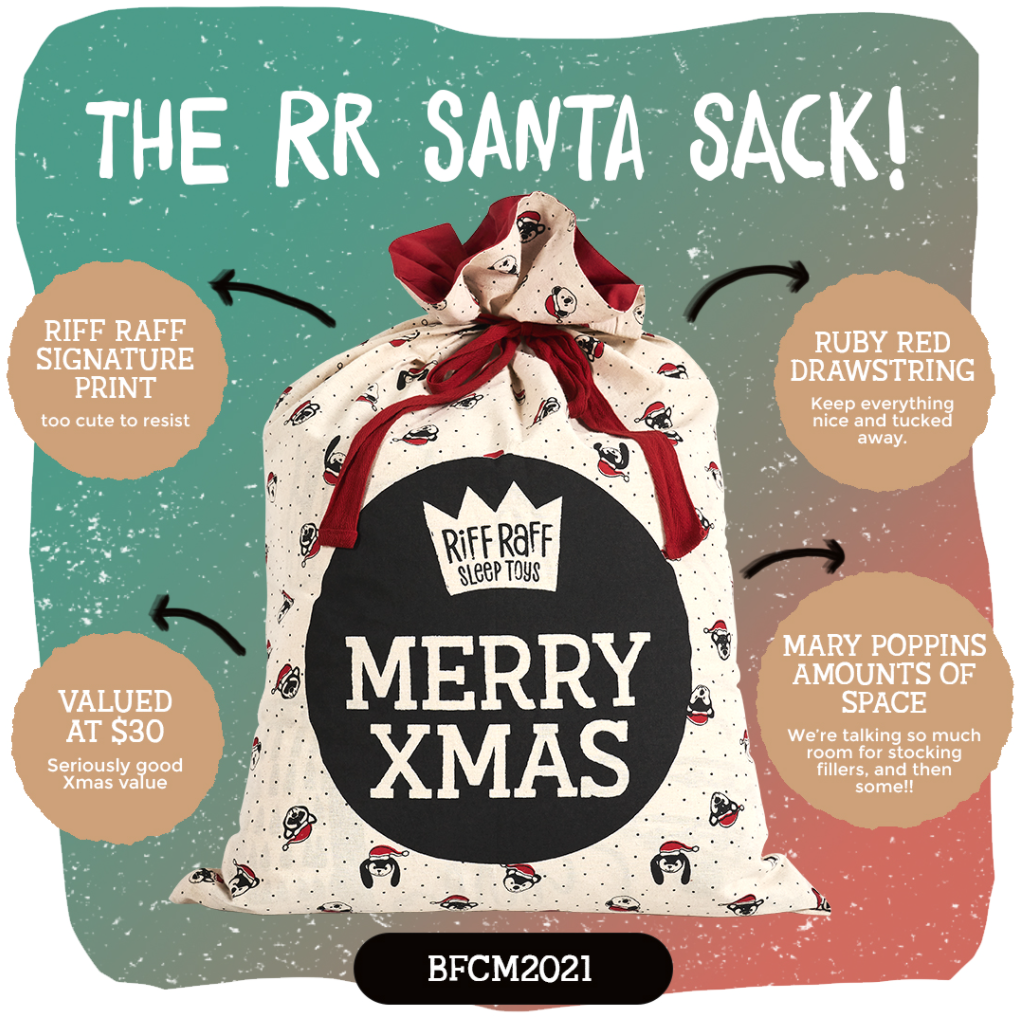 Secret Santa Sack Christmas 2021
Imagine the look on your little ones face on Christmas morning when they see their besties face on their Santa sacks! After what has been a year like no other, this Christmas has a buzz about it and we CAN'T wait to be a part of your family gathering around the Christmas tree!
Presenting the *Limited Edition 2021 Christmas Riff Raff Sleep Toy Santa Sack!
You must be signed up to our email to receive your Secret Santa Sack code to receive 1 hour early access to the promotion.
Our promotion goes live at AEST 7pm Monday 22nd November 2021
To add a Santa Sack to your order, please select a toy, check the Santa sack box and add to cart. Apply the code to your checkout once you have added all your products to your cart to make the Santa Sack $0.
For EACH FULL TOY, valued at $65.00, you purchase you will receive a FREE Riff Raff Sleep Toy SANTA SACK! eg 3 Full Toys = 3 Santa sacks! Wow!!
The Secret Santa Special code only applies to full price toys. This is not available on plush only toys, books, spare sound boxes or NQR purchases.
If you have not received the email with the code, please check your junk folder. Our email management system is pretty bomb proof so it should be there. IF it is not, email our team who can help you further hello@riffraffandco.com
No other code can be used in conjunction with the Secret Santa Sack code. Our shop like most, only allows one code to be added at the checkout. We recommend any codes you have be used for future purchases.
If you wish to make your purchase count as a referral, you can not take advantage of the FREE Santa Sack. You can purchase one and get the free ship in this situation but not both together.
If you make a purchase $85.00 and over, you also automatically gain FREE SHIPPING. In this scenario you can then apply the Secret Santa Sack code and receive 2 discounts. Merry Christmas!!
By applying the Secret Santa Sack code, you are agreeing 10 business day delay between placing your order and movement in your tracking. Due to the volume of orders we will receive, our normal Next day shipping will not apply during the dates Monday 22nd November 2021 through to Monday 29th November 2021. We reserve the right to change these dates at anytime.
The Secret Santa sack is not sold separately. To receive your FREE Secret Santa Sack, a FULL toy must be in your cart.
Selecting personalisation at the time of ordering, attracts an estimated 14 business day delay between order placement and shipping due to the process the toy undergoes.
Personalisation is NOT available on this product.
Due to the nature of screen printing, we recommend not washing your Santa Sack.
This promotional product is is not covered by a warranty or guarantee.
The dimensions of this product are 50 cm x 70 cm and are made from Calico Cotton.
If you have placed your order and forgot to add your code, your order will need to be cancelled and a new order placed applying the code. This can ONLY been done within 12 hours* of placing your order. NO CHANGES CAN BE MADE TO YOUR ORDER AFTER 12 HOURS. Please email our team as soon as possible to cancel your order. Due to the volume or orders our HQ will be shipping out this week, we can not simply add it on. Please send an email/ chat or DM with your ORDER number to our team to action this.
*The promotion is for a limited time only and only while stocks last. Riff Raff Sleep Toys reserves the right to remove the promotion at any time. Once they are gone, they are GONE!
*12 hours in an approximate. We reserve the right to change this window of time.
And from all of us here at Riff Raff, we wish you all a very Merry, Safe and Happy Christmas!
---
---