Updated by Riff Raff Baby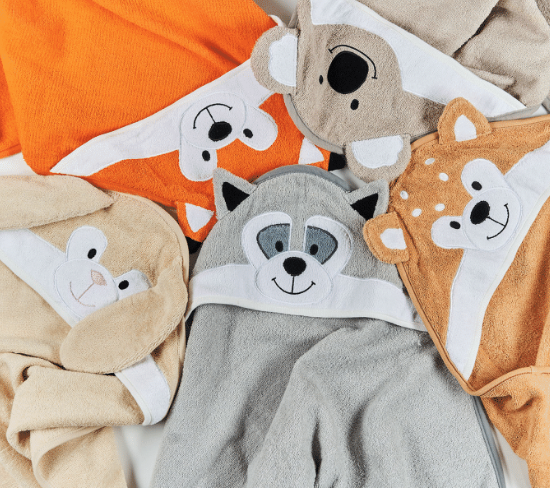 The Riff Raff Sleep Toys Bath Set!
Your little one can now be wrapped up in their favourite pal as they come out of their evening bath, after a day at the beach or swimming lesson! We are beyond excited to see your little ones reactions!
Here is everything you need to know about these gorgeous Bath Sets.
Price $49.00
How to wash - Cold wash with similar colours or other towels.
How big are they and what material is it made of - 85cm x 85cm 100% premium cotton.
Can you personalise your Bath Set? No Unfortunately the HTV process we use, does not attach to towelling.
Can you purchase the Mitt and Set separately? No, they are sold together as a set.
Our Change of mind Returns and Exchange Policy
We understand it is very difficult to know if an online purchase will meet your expectations. 
That is why we we have a 100% risk-free returns policy. If you are in Australia, we even pay your postage. International customers will be required to pay shipping at their expense
The following conditions apply:
Exchanges and Refunds will only be processed when received to us in the original packaging unused. There are no exceptions to this policy. Bath sets used in any way or returned without the original packaging are excluded from the policy. The measurements are included so you can check this prior to purchasing.
Exchanges and Refunds will only be processed within 30 days of customer receiving the item. There are no exceptions to this policy.
Please be aware that exchange or refunds will only be processed when the goods being returned have been received and confirmed as-new quality.
Refunds will only be actioned to the accounts from which the goods were purchased.
If you did not purchase the item, you are entitled to an exchange ONLY
Faulty items
Oh dear is something wrong with your Bath Set?
You are covered by a 3 month replacement from the date of purchase for FAULTS only.
Examples of Faults
Major design missing on arrival, an eye or ear etc.
Major stitching issues on arrival.
Not a wear and tear issue.
What are wear and tear issues? 
They are durable... but everything has its limits. Like clothing, use and washing will cause the material to wear. Constant use issues are classed as wear and tear.
Snapped stitching
Fading
Pulled material
Pilling and other changes due to use and washing.
If you have any questions concerning your towel, please do not hesitate to contact our Customer Service Team