V2 How long will the batteries last?
Updated by Riff Raff Baby

The V2 Sound box Est Jan 2018
How long the batteries last will depend entirely on the age of your baby and how many times you are using it. Below is a little guide as to the number of naps / sleeps a baby may have at each stage to give you an idea on how much it can vary: 
0-4 months - anywhere from 6 naps and 3 overnight wakes a day (up to 9 total) 
4-6 months-  2-4 naps + sleep plus1-2 feeds overnight (4-7 total)
6 -12 months - 2-3 naps + sleep plus 1+ feed overnight (3 minimum)
12 months and over - 1-2 nap, 1 sleep and possible resettling ( 2 minimum)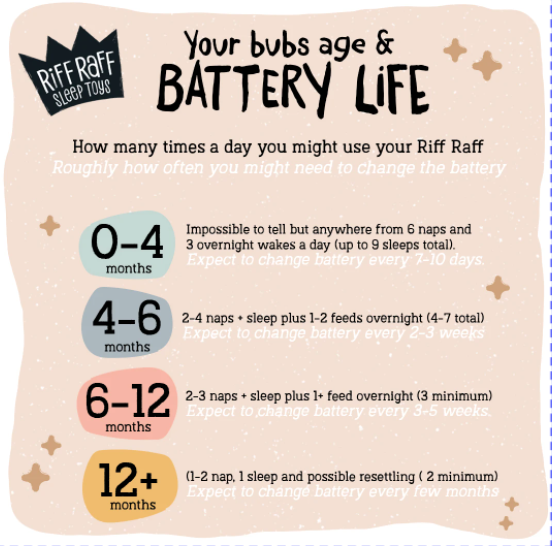 You can see here that as a newborn you will use the toy and it's batteries more than 4 times as much as you will one year later. 
We have extensively tested 11 popular battery brands. Based on our testing of 5 times a day on the 40 minute setting, you will start to see signs of battery drain around day 14-16. This is around 50 hours of playback on 2 AAA batteries that in most products only last for 3 hours of consistent use. This is excellent by electronics industry standard.
With this in mind we have devised the following guide with the above usage vs age in mind:
Newborn - expect to change every 7-10 days
4-6 months - expect to change every 2-3 weeks
Napping but sleeping through - every 3-5 weeks
Solidly sleeping (2 years +) - months!
These are all using the 40 minute loud setting. Expect to get double the playback if you are only using the 20 minute setting.   
Battery Brands
If you are relatively close to our guide when its comes to use but would like more from your batteries, a change of brand might help. Since conducting our study comparing 11 popular battery brands, we can rank them in this order for best results:
1. Energiser Max Plus (teal): Continues to trigger up to 90 times + on both the lullaby and white noise - 60 hours of playback
2.  Duracell Ultra: Continues to trigger up to 90 times + on both the lullaby and white noise - 60 hours of playback 
3.  Eveready Max Gold: Continues to trigger up to 90 times + on both the lullaby and white noise - 60 hours of playback 
4.  Energiser Max Red: Continues to trigger up to 90 times + on both the lullaby and white noise - 60 hours of playback 
5. Chevron: Continues to trigger up to 90 times + on both the lullaby and white noise - 60 hours of playback 
6.  Varta Longlife: Continues to trigger but shows signs of dying after 80 triggers - 53 hours
7. Anko: Continues to trigger but shows signs of dying after 80 triggers - 53 hours
8. Varta Energy: Continues to trigger but shows signs of dying after 80 triggers - 53 hours
9.  Activ Energy Aldi:  Continues to trigger but shows signs of dying after 80 triggers -53 hours
10.  Fujitsu: Continues to trigger but shows definite drain signs after 60 triggers - 40 hours of playback 
11. Panasonic: Continues to trigger but shows faint buzzing and drain signs after 55 triggers: 36 hours 
If you are turning over batteries faster, for example under 6 days on minimal use: 3 times a day, please reach out to our team with these specifics and we will assist in troubleshooting with you. Your soundbox is covered by a free replacement period for 12 months from date of purchase. You can reach us at hello@riffraffandco.com